As organizational scientists, we should be striving to produce useful and replicable research. Recently, how we (and really all sciences) conduct our research has drawn critique. From our relative disuse of inductive research methods, to unethical practices during the review process, to publication bias, to HARKING, to P-hacking, and so on, we must take meaningful steps so that we (and the consumers of our research) have confidence that our findings are meaningful, replicable, and honest. To that end,  Journal of Business and Psychology will be launching a special initiative — results-blind review submission option.
In this alternative path, authors submit the intro, methods, measurement info, and analysis plan of a completed study (no results or discussion in the first round). This abbreviated paper then undergoes a peer review and is evaluated on the merits, rigor, and quality of the project rather than what was actually found.
Our goal is to encourage authors to propose conceptually sound, interesting, and methodologically rigorous research without concern for whether the results will be statistically significant. Instead, we want the focus to be on the importance of the research question and the rigor of the research design. We should welcome the results from sound research no matter if they support proposed hypotheses, yield 'null' results, or replicate (or fail to replicate) previous work. Simply speaking, well conceived, designed, and conducted research should form the corpus of knowledge. We believe this special initiative provides an opportunity to do just that.
The results-blind review approach is appropriate for inductive, deductive, mixed methods, and papers involving multiple studies. In the case of the latter type, the author is encouraged to contact the editor to decide on the best approach for submission. There are multiple options as the results-blind review approach is highly flexible.  At times, it may make sense to include the first study with results, and then the follow-up studies with out results (this is sometimes ideal for research that starts inductive and then moves to deductive approaches).  Other times it is useful to include all studies with out results.  Overall, an initial conversation with the editor can clarify an approach that makes sense for the project in question – ultimately it is not useful to assume a one size fits all approach given the eclectic nature of research.
Note, we also welcome traditional registered reports submissions following the same process.
√ Results-blind review guidelines for authors and reviewers
√ Portal for Submitting Papers and Official JBP Website
√ New York Times article on why the initiative is critical.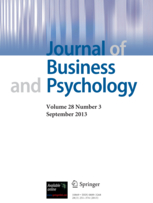 We also would like to thank the Center for Open Science for their support and dedication towards improving science.